Regular price
$1,605.00 USD
Regular price
Sale price
$1,605.00 USD
Unit price
per
Sale
Sold out
View full details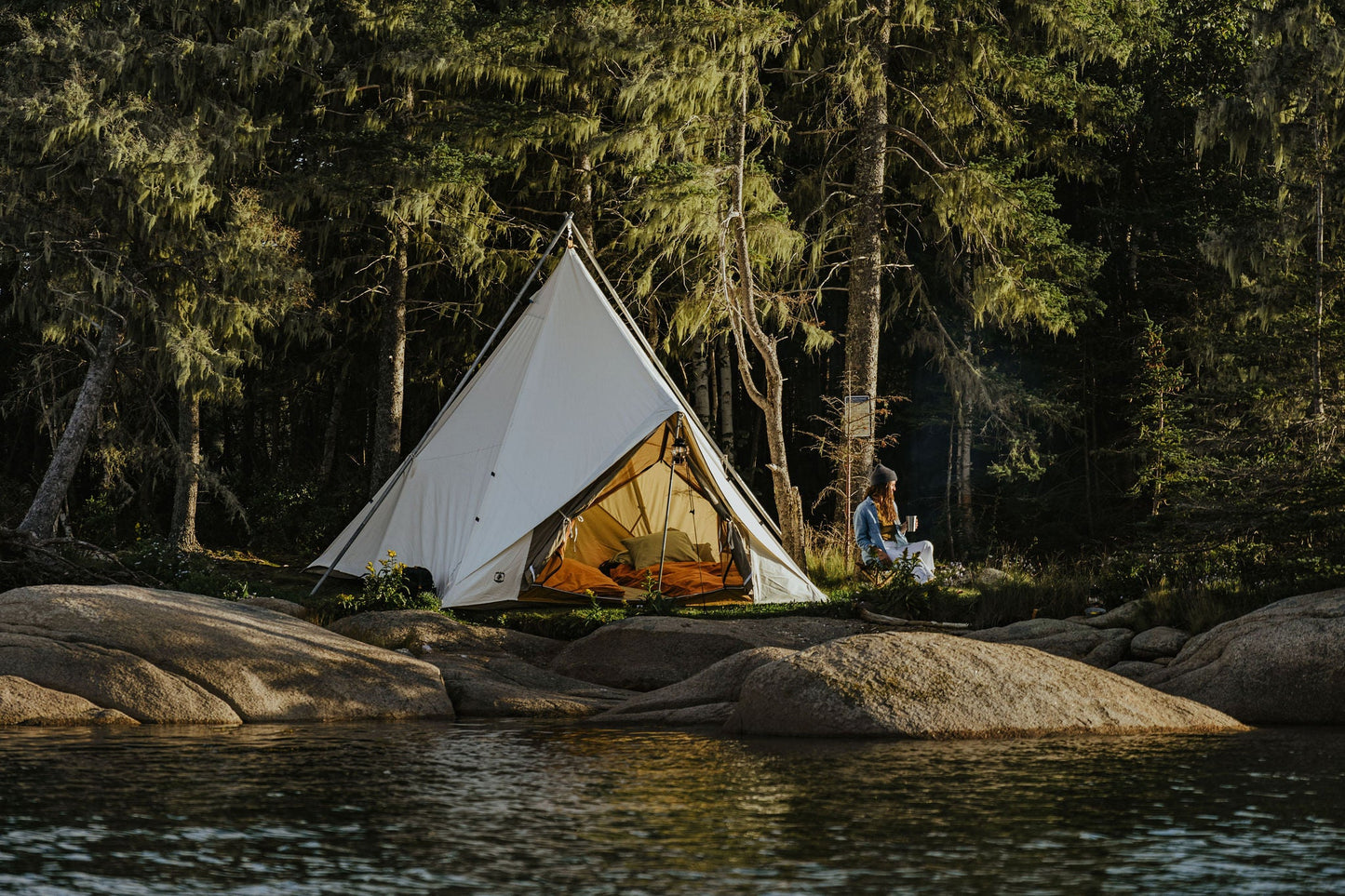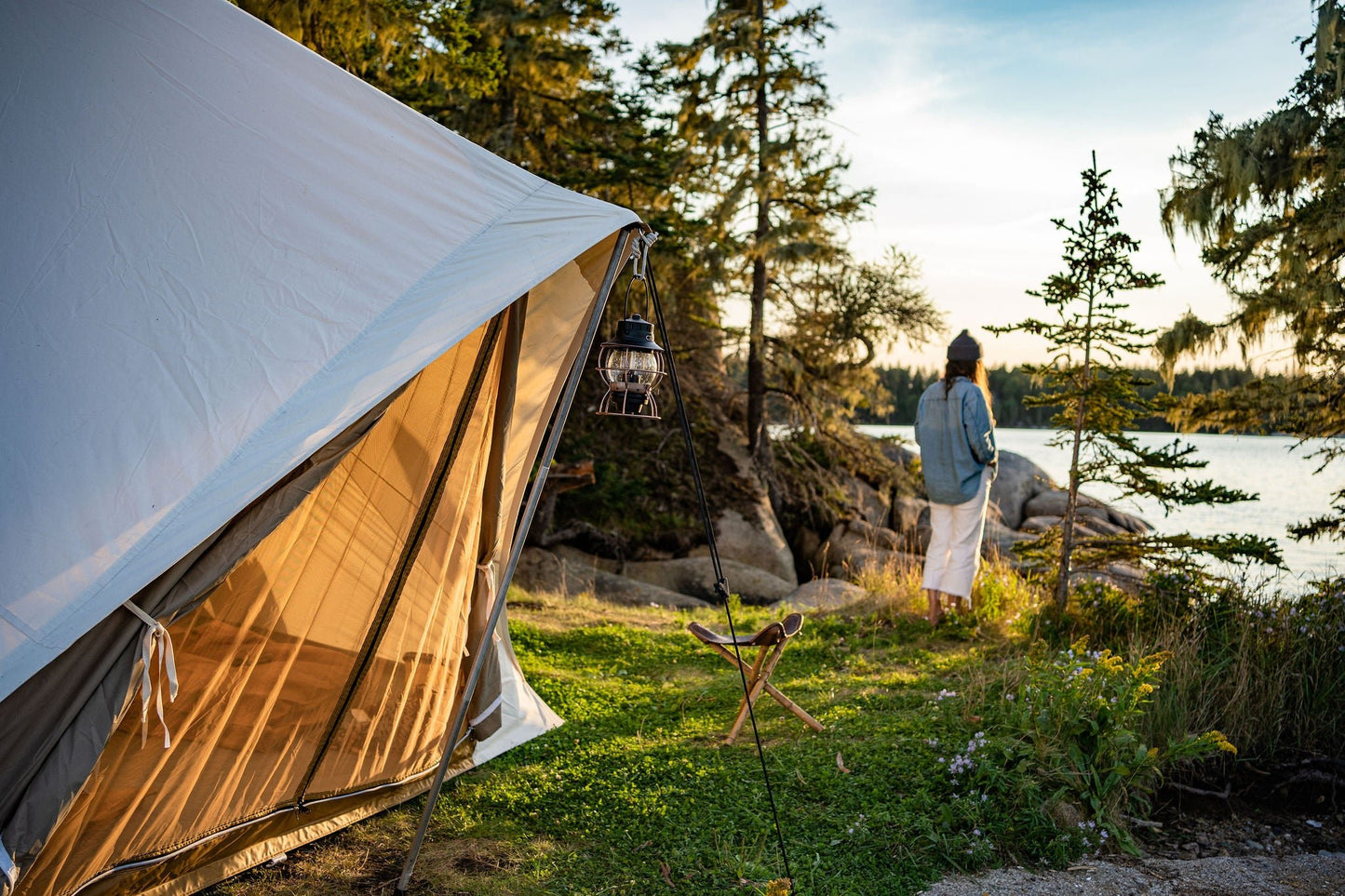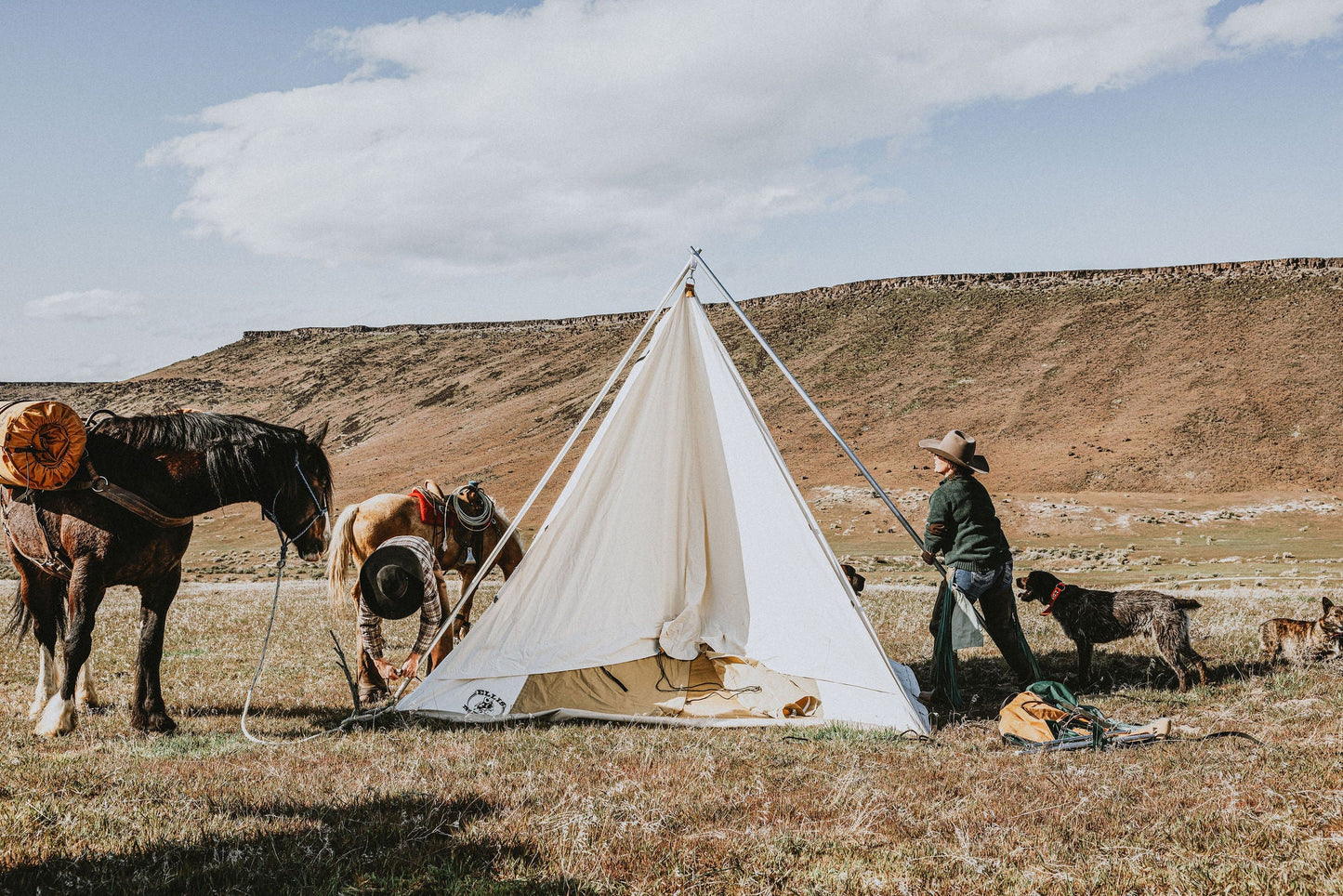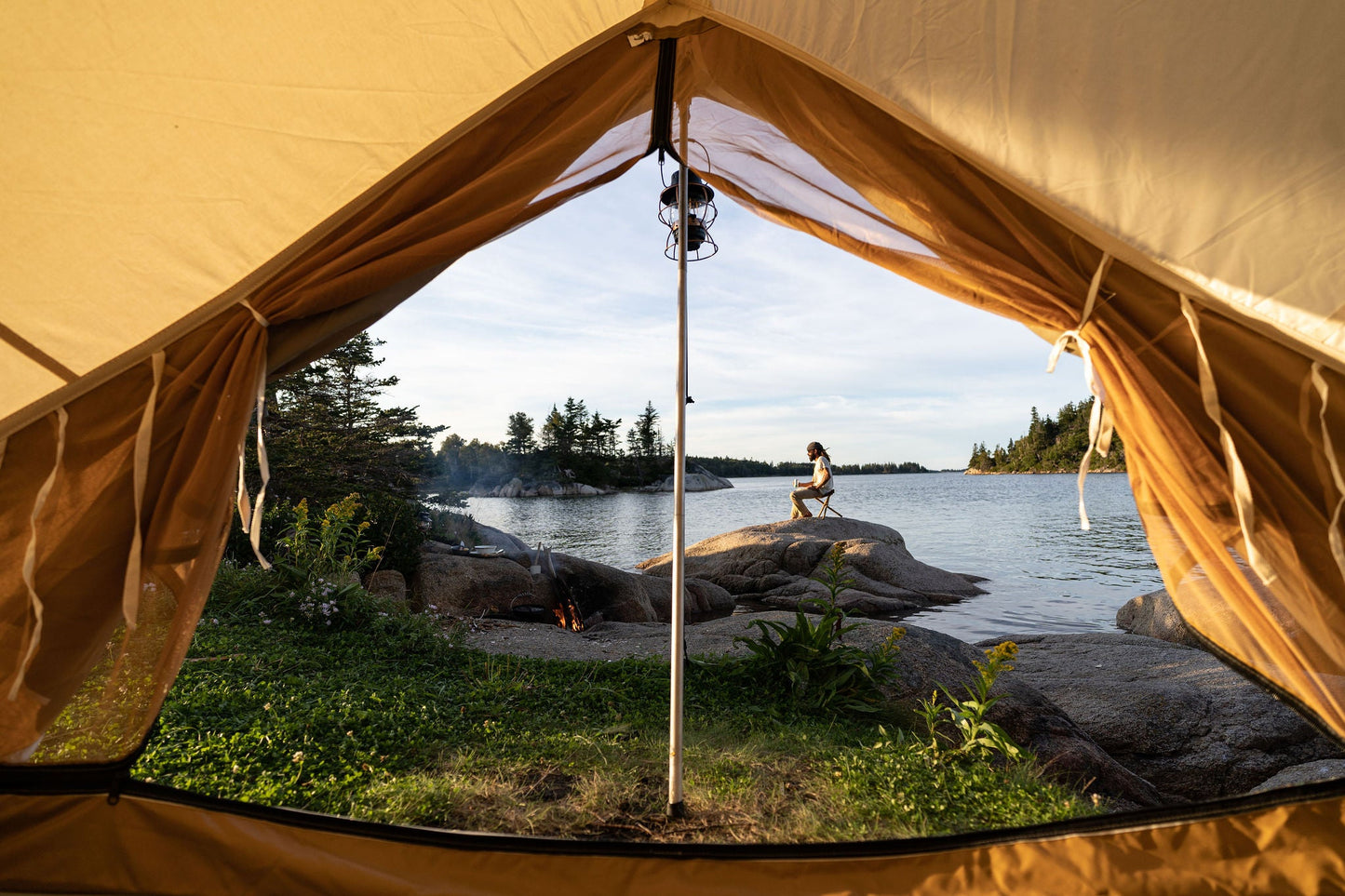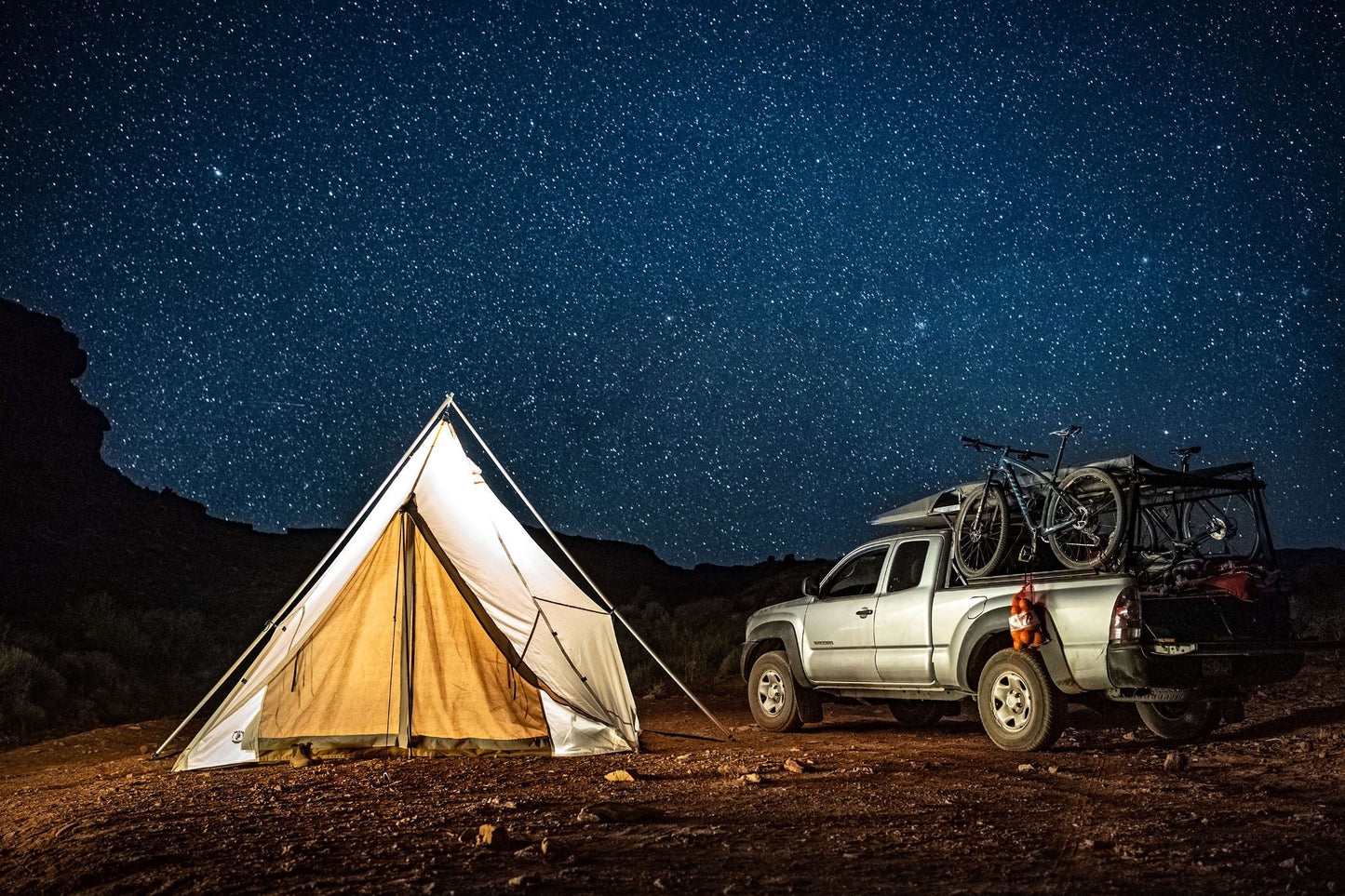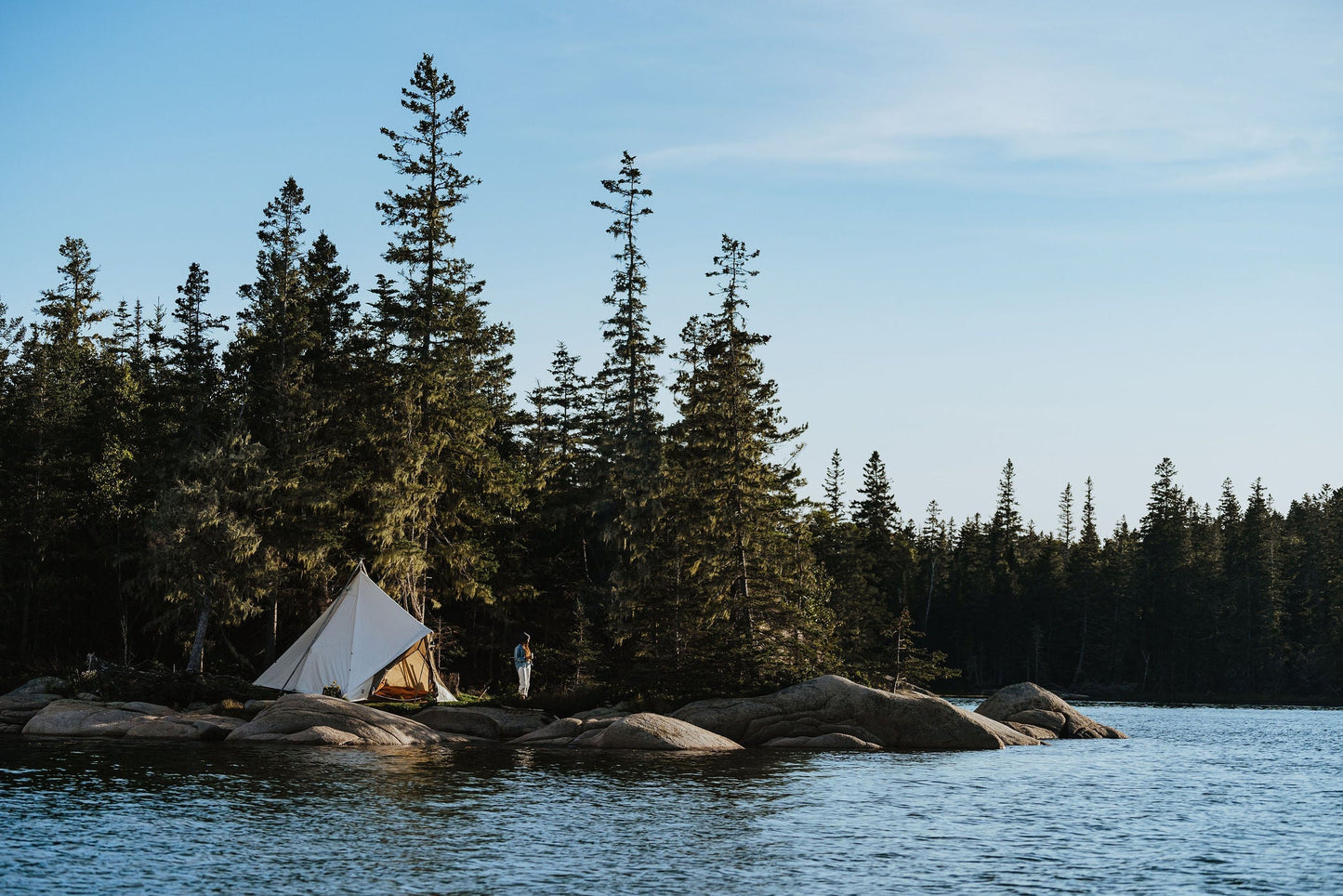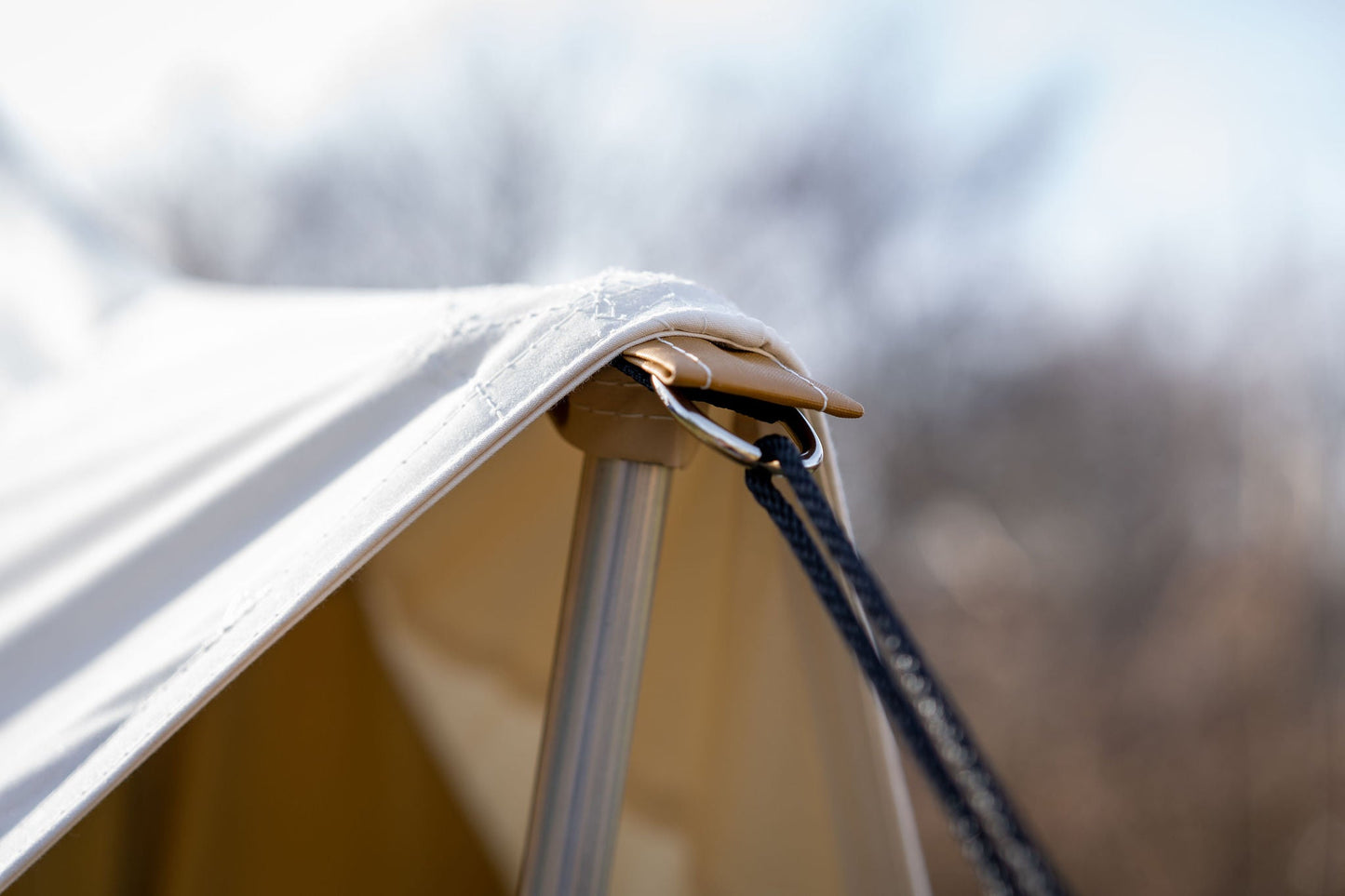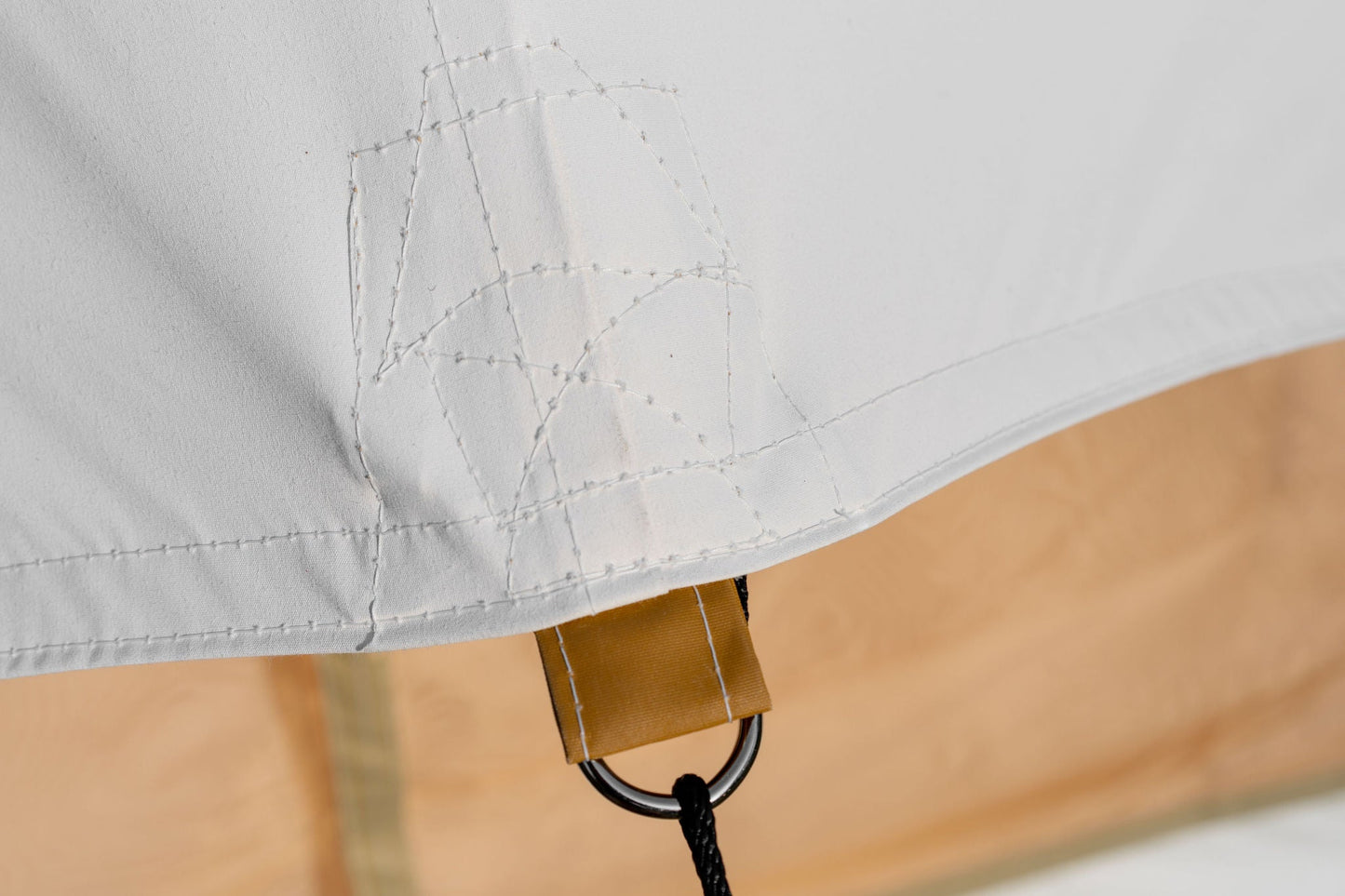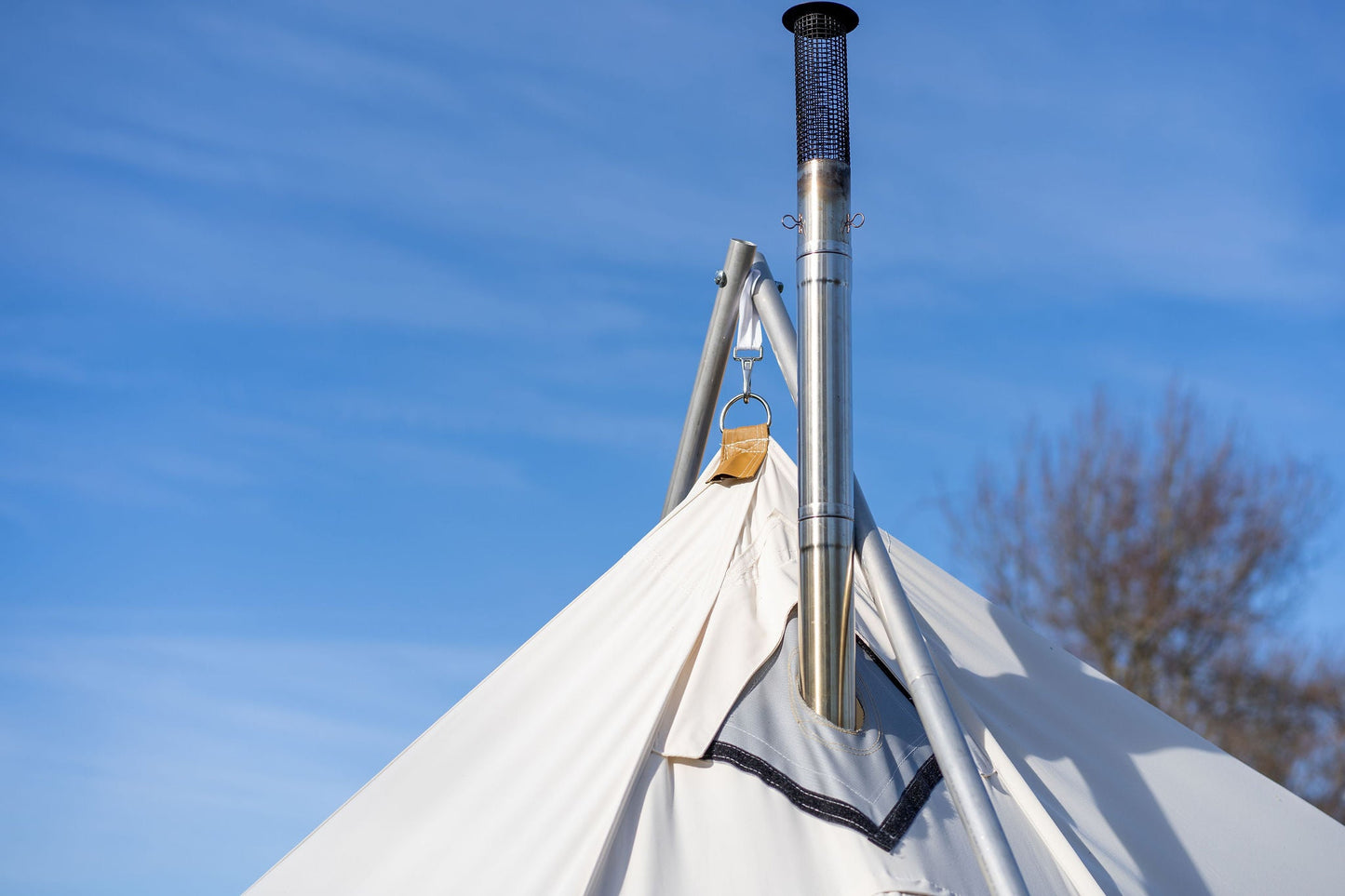 It's hard to say whether Ellis invented the Prairie Tent or the Prairie invented Ellis.  Either way, this tent is where it all started.  Dave Ellis was making Range tents for the cowboys when he realized that that old design had inherent problems that could be innovated and resolved.  The goal was to maintain the speed and simplicity of a range tent while creating more usable interior space and keeping weather out.  Dave spent thirty years refining this design and it led to many of the innovations found throughout our line of Canvas Tents.
How to set-up your Prairie Tent
What's Included
Prairie Tent, 6x Stakes, A-frame Pole, Front Door Pole, Pole Bag, Stake Bag, Stove Jack Cover, & our Signature Lay-Flat Compression Bag.

Specifications
Collapsible content
8' x 8' Prairie Tent

Packed Weight: 30 lbs. 6 oz.
Packed Dimensions: 12" x 8" x 31"
Tent Shell Weight: 19 lbs. 10 oz.
Total Pole Weight: 7 lbs. 6 oz.
Total Spike Weight: 1 lb. 10 oz.
Spikes: 6 pcs.
Interior Peak Height: 82"
Stove Jack Height: 66"
Floor Area: 57.5 sq. ft.
10' x 10' Prairie Tent

Packed Weight: 42 lbs. 11 oz.
Packed Dimensions: 14" x 10" x 35"
Tent Shell Weight: 29 lbs. 1 oz.
Total Pole Weight: 9 lbs. 12 oz.
Total Spike Weight: 1 lb. 9 oz.
Spikes: 6 pcs.
Interior Peak Height: 106"
Stove Jack Height: 90"
Floor Area: 90.25 sq. ft.
12' x 12' Prairie Tent

Packed Weight: 53 lbs.
Packed Dimensions: 14" x 9" x 42"
Tent Shell Weight: 38 lbs. 2 oz.
Total Pole Weight: 10 lbs. 13 oz.
Total Spike Weight: 1 lb. 9 oz.
Spikes: 6 pcs.
Interior Peak Height: 118"
Stove Jack Height: 104"
Floor Area: 132.25 sq. ft.
More Info
Our Prairie Tent is the most popular of all our designs. The simple set-up, spacious interior, and beautiful lines are derived from the Range Tents of old that have been employed by cowboys across the American West since the 1800's. The Ellis approach brings this simple structure into a more functional and well-rounded tent. In place of the original pyramid design, we have added front and rear dormers to allow the large front door and rear window to be opened even in a downpour while keeping the interior of the tent dry. The two additional guy lines that make this possible add stability to the tent in high winds as well as more space to the interior. The high stove jack and vent allow for the majority of your stove pipe to remain inside of the tent and out of the wind for extremely efficient heating in the winter. The large screen door and window provide ample ventilation in the summer months. This is a true American classic, redefined.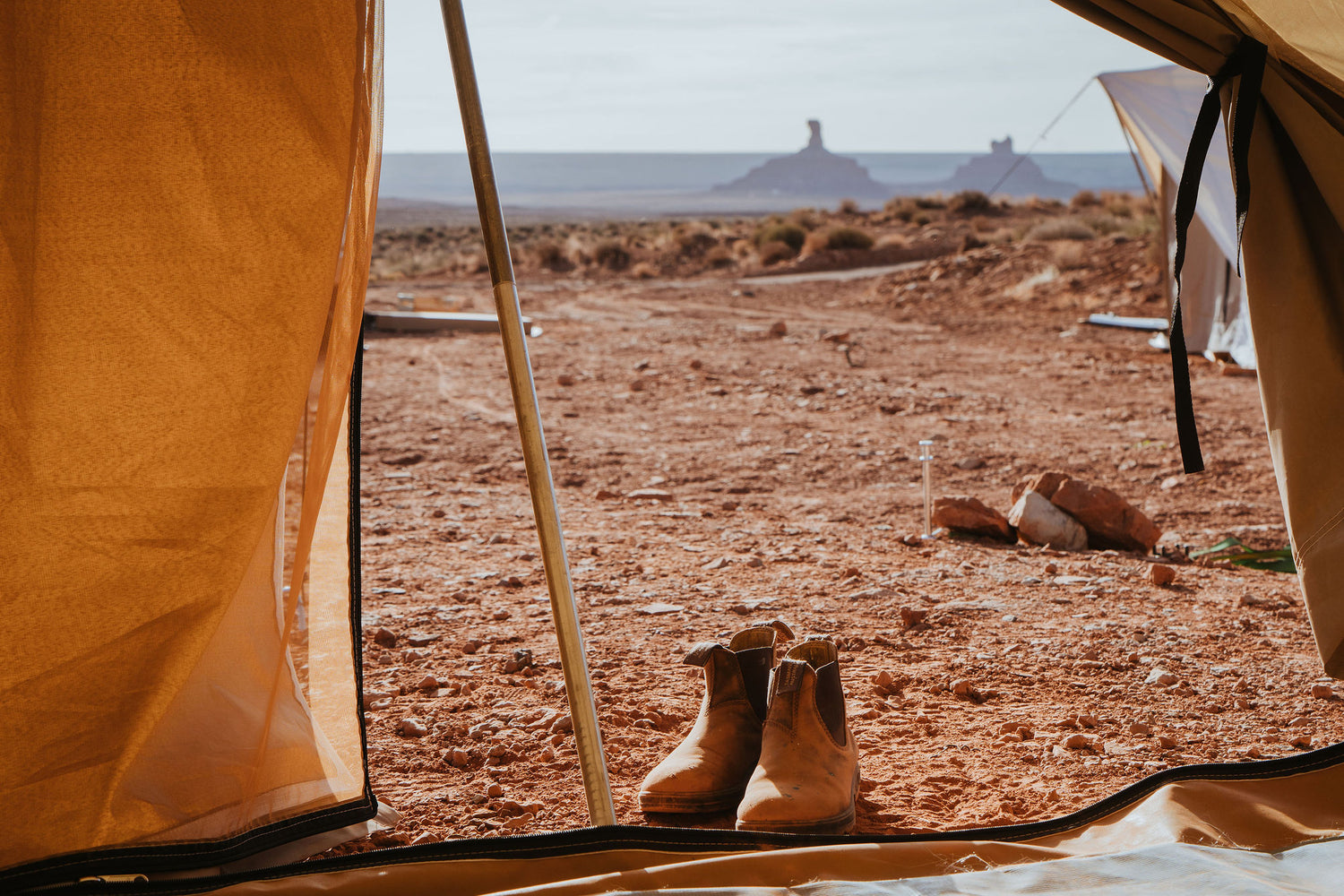 Best tent I've ever purchased
I was just blown away by this tent it's held up well in rain and strong wind I would recommend this tent to everyone I met
Prairie Tent Camping at Butch Cassidy's Hole in the Wall Hideout
I have wanted to give the Prairie Tent a try for quite some time and hesitated due to cost. When I got the email showing them back in stock I finally placed an order. Received tent after a short few days. Could not be happier! A true work of art. The craftsmanship and overall quality is amazing. Made in the USA using quality components and what I would say is the desire by Dave Ellis to make the best products on the market. Very well thought out design. Easiest tent I have ever set up. Ventilation is wonderful. Initially only able to camp for 3 nights at one of Butch Cassidy's old hideouts located near Kaycee Wyoming. A perfect location for this type of tent.
Looking forward to many more nights in the Prairie Tent.
If you are in the market for this type of tent I highly recommend the Prairie Tent.
Great tent
10x10 prairie tent. I,ve been out three times with the tent so far here in Colorado. Very easy set-up. Had a night or two with high winds and rain on one trip. Tent stayed dry and tight. Its actually harder to take down than put up, it took me couple of times to fold it properly. Once that was down no issue. If you,re looking for a quality long lasting tent, I highly recommend it
Brian
Craftsmanship? Art? Both?
We ordered the 12x12 Prairie. The tent is everything these reviews say that it is, concerning the quality, ease of set up, top notch components, etc. If these are the traits you're looking for to help you decide whether or not to purchase one of Dave's tents, then why haven't you ordered it yet? Oh, you're still on the fence? Look, after camping in our 12x12 Prairie, in torrential rain, and under clear, sunny skies, I can tell you that this tent is a work of art, plain and simple. We have not only camped in our tent, but we have studied and pondered it as well. Dave's creativity and craftsmanship comes through, and maybe even speaks to you on a certain level. It's as if Dave is saying, "There is a better way, a more simple, yet elegant way, and this is what I came up with". We have owned other canvas tents, and although those tents were "ok", this is the tent you want. If you think you've made up your mind to order one of Dave's tents, you have made the right choice, but you'd better get on it, they sell out quickly. 😁
Very good design
I love this tent. We got the 10x10 and its a good size for a couple cots. The design is incredibly well thought out and the dormers are very nice when its raining. It is easy to set up, pack up and work with. The materials are very nice, the treated canvas is light enough to haul around but heavy enough for durability and is completely waterproof. My only complaint is that the stitch length could be shortened a bit for durability.
Free Shipping

We offer free shipping within the lower 48 via UPS Ground.

Handcrafted in Colorado

All our goods are built in our workshop in Durango, CO.
Hardworking gear, built to last.